Ingredients:
2-3 poached chicken breast
250g spinach leaves
1-2 baby cos
2 avocados
1 red capsicum
250g snow peas
2 sticks of celery
2 lebanese cucumbers
1/2 red onion
250g of cherry tomatoes
1/4 cup raw cashews crushed
1/4 cup raw almonds crushed
1/2 cup dried cranberries
1-2 handful of pepitas
1/2 cup of mayonnaise
pepper to taste
2 tsp honey or syrup
2 tbsp mirin
soy sauce (1/4 cup for the poaching water, 1 tbsp for the dressing)
add some antipasto like sun-dried tomatoes or chargrilled capsicum
This has a lot of ingredients but it is super easy to put together.  Firstly poach your chicken breast, I throw them in a pot of water with soy sauce.  I put them in from cold and time them for about 20 mins after boiling.  I always cut to check and make sure it is cooked through.
While the chicken cools get a large boil.  Prepare all your veg the way you like.  Some people like things chopped chunky some like it tiny or even grated.  It is personal preference really.  I am a BIG dicer accept for things like cherry tomatoes which I cut in half.  I leave the avocado to go in right at the end otherwise it tends to get mushed up. Put all of the veg into the bowl
In a small bowl mix together mayonnaise, mirin, soy sauce, honey or syrup, pepper and combine.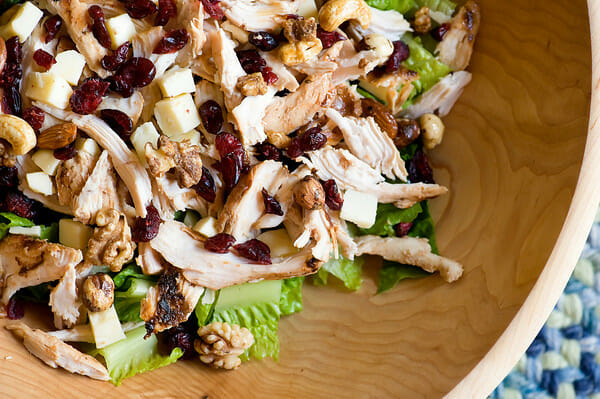 Once the chicken is cool you can shred it, I prefer to cut it up with chicken scissors.
Add chicken to the bowl with the salad veg.  Top with crushed nuts, pepitas, and dried cranberries.
Drizzle dressing over the top and toss salad, halfway through add-in avocado.
SEARCH OUR RECIPES
[searchandfilter fields="search,category,post_tag" types=",checkbox,checkbox" post_types="post"]